Newer posts are loading.

You are at the newest post.
Click here
to check if anything new just came in.
March
05
2015
What Should We Do About Achilles Tendinitis ?
Overview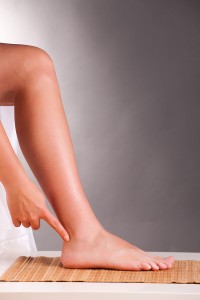 If you have pain along the back of your leg near your heel, you may have Achilles tendonitis. Achilles tendonitis is an overuse injury that commonly occurs in runners and ?weekend warriors?. The Achilles tendon is the largest tendon in the body. Named after a tragic hero from Greek mythology, it connects your calf muscle to your heel bone to allow you to jump, run and walk. Achilles tendonitis is most common in middle-aged men, but it can happen to anyone who has a sudden increase in physical activity. The risk is increased if you also have tight calf muscles and/or a flat arch in your foot. Other risk factors include running in worn out shoes, cold weather, frequently running uphill or if you suffer from medical conditions such as diabetes or high blood pressure. There are two main types of Achilles tendinitis: insertional and noninsertional. Insertional Achilles tendinitis involves the lower portion of the heel, where the tendon attaches to the heel bone. Noninsertional Achilles tendinitis is when the fibers in the middle portion of the tendon have started to break down with tiny tears, swell, and/or thicken. This type is more often seen in younger, active people. Both types can also cause bone spurs. Achilles tendonitis should be diagnosed by your doctor. However, if you experienced a sudden ?pop? in the back of your calf or heel, this might be something more serious like a ruptured or torn Achilles tendon. If this happens, see your doctor immediately.
Causes
Achilles tendonitis is an overuse injury. Too much too soon is the common cause of overuse injuries, however other factors can contribute to developing the condition. An increase in activity, either distance, speed or a sudden change to running up hills. As a rule of thumb distance runners should increase their mileage by no more than 10% per week. A change of footwear or training surface for example suddenly running on soft sand can cause the heel to drop lower than normal making the tendon stretch further than it is used to. Weak calf muscles can tighten or go into partial spasm which again increases the strain on the achilles tendon by shortening the muscle. Running up hills - the achilles tendon has to stretch more than normal on every stride. This is fine for a while but will mean the tendon will fatigue sooner than normal. Overpronation or feet which roll in when running can place an increased strain on the achilles tendon. As the foot rolls in (flattens) the lower leg also rotates inwards which places twisting stresses on the tendon. Wearing high heels constantly shortens the tendon and calf muscles. When exercising in flat running shoes, the tendon is stretched beyond its normal range which places an abnormal strain on the tendon.
Symptoms
Most cases of Achilles tendonitis start out slowly, with very little pain, and then grow worse over time. Some of the more common symptoms include mild pain or an ache above the heel and in the lower leg, especially after running or doing other physical activities, pain that gets worse when walking uphill, climbing stairs, or taking part in intense or prolonged exercise, stiffness and tenderness in the heel, especially in the morning, that gradually goes away, swelling or hard knots of tissue in the Achilles tendon, a creaking or crackling sound when moving the ankle or pressing on the Achilles tendon, weakness in the affected leg.
Diagnosis
Laboratory studies usually are not necessary in evaluating and diagnosing an Achilles tendon rupture or injury, although evaluation may help to rule out some of the other possibilities in the differential diagnosis. Imaging studies. Plain radiography: Radiographs are more useful for ruling out other injuries than for ruling in Achilles tendon ruptures. Ultrasonography: Ultrasonography of the leg and thigh can help to evaluate the possibility of deep venous thrombosis and also can be used to rule out a Baker cyst; in experienced hands, ultrasonography can identify a ruptured Achilles tendon or the signs of tendinosis. Magnetic resonance imaging (MRI): MRI can facilitate definitive diagnosis of a disrupted tendon and can be used to distinguish between paratenonitis, tendinosis, and bursitis.
Nonsurgical Treatment
With proper care for the area, the pain in the tendon should lessen over three weeks, but it should be noted that the healing of the area continues and doesn't even peak until at least six weeks following the initial injury. This is due to scar tissue formation, which initially acts like the glue to bond the tissue back together. Scar tissue will continue to form past six weeks in some cases and as long as a year in severe cases. After 6 months this condition is considered chronic and much more difficult to treat. The initial approach to treating Achilles tendonitis is to support and protect the tendons by bracing any areas of the tendon that are being pulled on during use. It is important to loosen up the tendon, lessen the pain, and minimize any inflammation.
Surgical Treatment
Chronic Achilles tendon tears can be more complicated to repair. A tendon that has torn and retracted (pulled back) into the leg will scar in the shortened position over time. Restoring normal tendon length is usually not an issue when surgery is performed within a few weeks of the injury. However, when there has been a delay of months or longer, the treatment can be more complicated. Several procedures can be used to add length to a chronic Achilles tear. A turndown procedure uses tissue folded down from the top of the calf to add length to the Achilles tendon. Tendon transfers from other tendons of the ankle can also be performed to help restore function of the Achilles. The results of surgery in a chronic situation are seldom as good as an acute repair. However, in some patients, these procedures can help restore function of a chronically damaged Achilles.
Prevention
There are several things you can do to reduce the risk of Achilles tendinitis, warm up every time before you exercise or play a sport. Switch up your exercises. Slowly increase the length and intensity of your workouts. Keep your muscles active and stay in shape all year-round. When you see symptoms of Achilles tendinitis, stop whatever activity you are doing and rest.